Schedule Your Emails With Boomerang For Gmail
Schedule Your Emails With Boomerang For Gmail
Posted in
Something Useful
by
Tammy
on April 11, 2018
I have yet to meet a business owner that doesn't use email. Email is one of the most used forms of communication amongst business owners, not only does it leave a paper trail, but it can be easier to communicate this way rather than over the phone.
If want to schedule emails to be sent but don't want to use a program like Mailchimp, well now you can. Recently I was introduced to Boomerang. Boomerang is a free extension that can be used with Gmail/Gsuite within Google Chrome.
Once you have downloaded the extension to Google Chrome you will notice a couple of new folders down the left-hand side. When you schedule an email they automatically go to the Boomerang-Outbox, so if you need to view what you have scheduled they can be found here.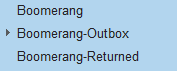 With Boomerang because you are tailoring a message directly from Gmail you can personalise your email, like you're going to send it then and there however you just choose the schedule button and the date and time you would like your message to be sent.
You may notice that sometimes when you send a Mailchimp email you don't receive a lot of opens people can generally tell what type of email they are being sent by the subject line. Using Boomerang, the recipient can tell that you have put the effort in to tailor an email specifically for them because is it like you just sent it yourself from your inbox.
This is a great tool especially if you work late nights but don't want to send your emails that late for fear that your customers will know what time you are working/contactable, you can do all the prep and then schedule them to be sent the next morning for you.
So, if you want to stay on top of your inbox and your customer interactions make sure to check out Boomerang in the Google Chrome Extension Library.